Inside The AGC™, advisors come together in a safe and private community to:
Connect and support one another
Get answers to questions from successful, growth-minded peers
Learn from experts inside (and outside!) our industry
Participate in growth challenges, and more!
Ready to grow personally and professionally alongside your peers?
👉 Click Here to Join Now!
The Journey Is Hard, Don't Go It Alone

Doubt. Fear. Knowledge gaps. Lack of support and accountability. Loneliness. Relentless distractions.
These are just some of the challenges advisors are faced with every day.
They're part of the journey.
It'll never be easy and success will never be guaranteed.
But the probability of success—personally and professionally—can be dramatically improved by joining forces with others who share your value system and a common goal.
Introducing The AGC™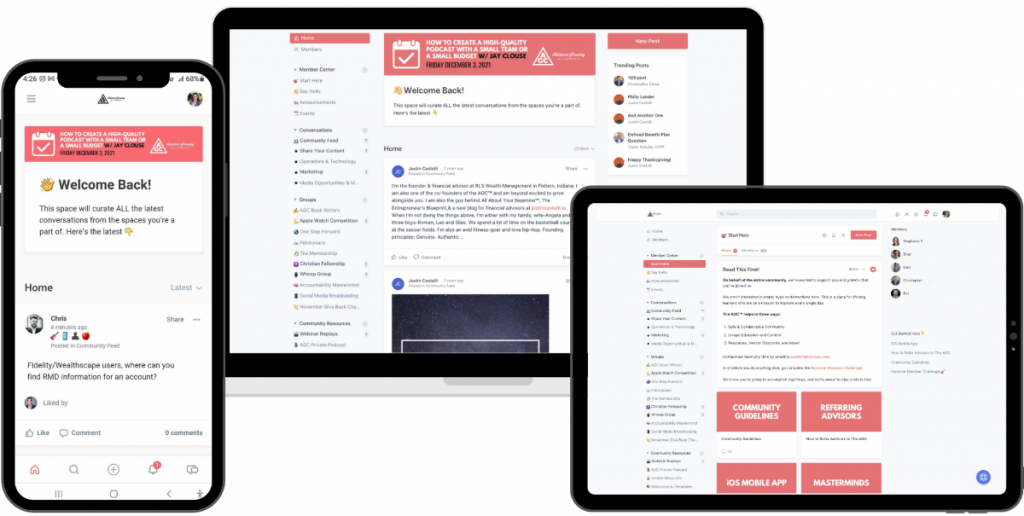 The AGC™ is a private, online community for growth-minded advisors.
It's for advisors that are lifelong learners, committed to self-discovery, and eager to collaborate with their peers.
All financial advisor career paths are unique but they all benefit from common experiences:
Enriched education
Professional networking
Interactive collaborations
Access to powerful tools and resources
Gaining value from those experiences is only possible when the culture is rooted in safety.
A Safe Community
The need for safe places providing acceptance, development, and collaboration has never been more important.
That culture and commitment is the core The AGC™.
Our community tenets and benefits:
A safe place to ask questions, experiment with ideas, engage with peers, and grow without fear of judgment or rejection.
Relationship-building opportunities with successful peers that can yield solutions to problems, provide accountability, and establish friendships.
Premium and discounted access to new courses, content, and other offerings from the founders.
A community that welcomes members from diverse backgrounds including race, ethnicity, gender, orientation, neurodiversity, and physical ableness.
A focused environment to accelerate learning and networking due to the absence of noisy conversations and immature colleagues.
A privacy-first attitude toward all aspects of the community.
The AGC™ Is Built on 3 Core Pillars:
#1 – Private Community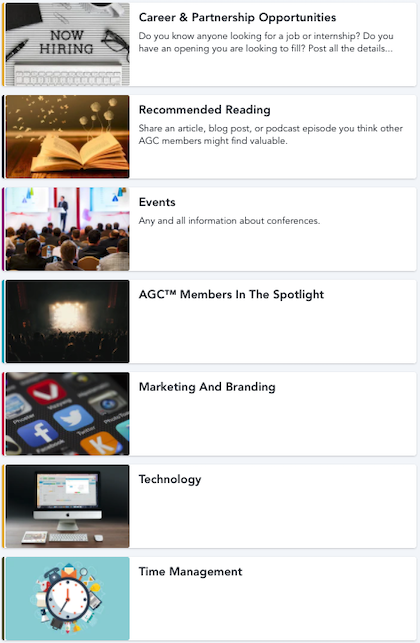 👉 Community newsfeed for broad-based conversations and interaction.
👉 Sharing channels for members to share their content & big wins.
👉 Private channels for laser-focused discussions.
👉 Direct messaging to promote 1:1 member connections and relationships.
#2 – Educational Content
Webinars & Workshops
Every month, a special guest (from inside or outside the industry) joins us for an intimate 90-min conversation.
---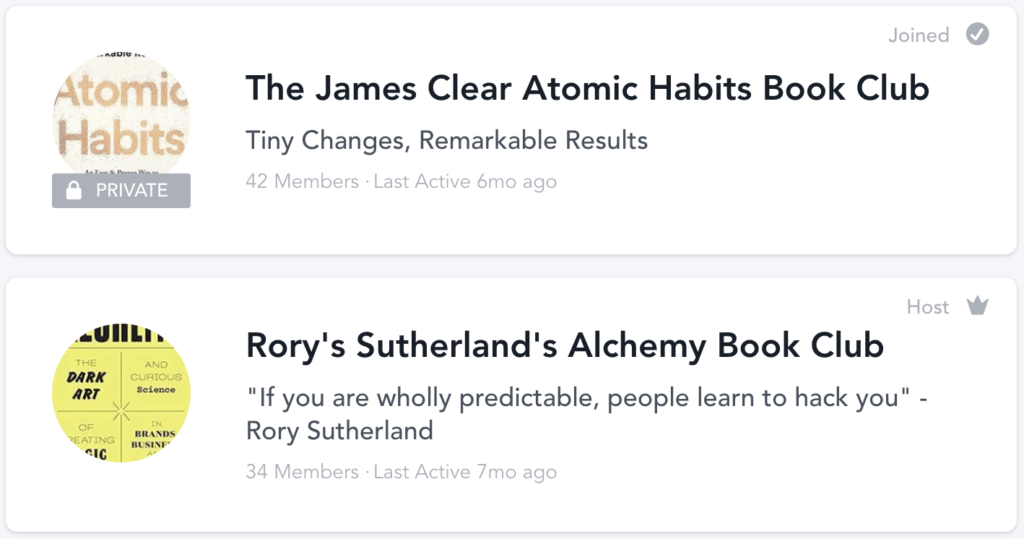 Virtual Book Club
Each quarter, a different AGC member leads a discussion around the chosen book. Read along and learn with peers.
---
Other exclusive content includes:
👉 Private Podcast Feed. The audio replay of every webinar is published to our private podcast feed so you can listen (or re-listen!) on your favorite app.
👉 Courses & Challenges. Discounted courses, exclusive resources, and group challenges to help members learn and grow in unique formats.
#3 – Relationships & Support
Do you ever feel like you're on an island? Like you have a burning desire to continue growing and learning but something is missing?
While many advisors work on teams or at large firms, it's not uncommon to feel the need for additional support and relationships.
That need was one of the core reasons for building this community. The AGC™ makes it easy (and safe) to connect and grow alongside your peers.
"People don't just want information. They want inspiration, friendship, and accountability. Transformative learning can only happen with a group of peers." ~David Perell
Growth-Minded Advisors Wanted
Lifelong learner. Committed to growing personally and professionally. Eager to collaborate and connect.
If that sounds like you, and you're looking for a community of peers to join forces with, we'd love to have you.
Let's see if The AGC™ is a good match:
It's a match if you…
Believe in the virtues of humility, empathy, and abundance.
Value diversity and accept others regardless of their appearance, ideas, and backgrounds.
Need and want a group of growth-minded advisors to help, challenge, and encourage you.
It's not a match if you…
Maintain a scarcity mindset and are more of a taker than a giver.
Prefer to surround yourself with people who look, think, and act like you.
Already have a peer support system or are in need of one-to-one professional coaching.
Feel Like It's a Match?
Outstanding! Here's what you need to do to join:
Complete our application & submit payment—Click here or the button below to get started.
Be patient—Applications are individually reviewed by our team. You can expect a response within one business day.
Sign Up—Once approved, you'll receive an email with everything you need to get started. See you in there!
👉 Click Here to Join Now!
Still Have Questions?
+ How Do I Know if I'm a Good Fit?
While you must be a licensed financial advisor, we welcome all designations, fee structures, and career stages.
Our typical member is a lifelong learner.
They're lacking a support system or exhausted by the chaos of social media and in search of safe, diverse, and constructive conversations.
Most importantly, they're passionate about collaborating with and learning alongside their peers.
+ What is the Typical Profile of an AGC Member?
Some members have decades of experience. Others are in the early stages of their career.
The community is made up of:
Advisors at broker/dealers or insurance firms
Non-owner employee financial advisors
Owners of Registered Investment Advisory (RIA) firms
Advisors in the U.S.

and

overseas (S/O to our Canadian, U.K., and South African members!)
Multi-billion dollar firms, $0 AUM firms, and everything in between
So what is the common thread between members?
The desire to grow with a community of like-minded peers who:
Have an abundance mentality
Are trying to become better

people

and

advisors

every single day.
+ How Is This Different From Other Networks and Coaching Programs?
Like our peers, we see other organizations as collaborative partners, not competitors. However, we recognize you don't have the capacity for everything.
To help you find the right home for your needs, here are three things that make The AGC™ just a little different:
1.) The Community is #1. Often times, the "community" gets overshadowed by the content. Not here. Our #1 focus is on maintaining a safe, engaged, and collaborative community.
It's with this strong foundation that we can then learn and grow together, both personally and professionally.
2.) We are NOT a coaching program. There are some exceptional industry coaches, some of which have partnered with The AGC™.
Think of us as your home base. The place you go for honest feedback, accountability, connections, education, and fun. The place you go when you're having a bad day need to lean on your peers. Better yet, the place you go when you have a big win or new project you want to share without judgment.
3.) We welcome all fee structures, career stages, and geographic locations (S/O to our Canadian, U.K., & South African members!). The only requirements are that you are a licensed financial advisor who is respectful, polite, and more interested in giving than taking.
It's also important that your U4 doesn't look like Bernie Madoff's 😲.
+ What is the Refund Policy?
We offer a no questions asked 30-day money-back guarantee. If you're unhappy with your membership for any reason, let us know within the first 30 days of membership and we will refund your entire payment.
+ What Community Platform Powers The AGC™?
Our private community is powered by Circle, one of the most modern, user-friendly, and multifaceted platforms out there.
Think Facebook meets Twitter meets Slack...but completely private and distraction-free.
+ How Do I Join?
Join The AGC™ in three simple steps:
Complete our application & submit payment — Click here to get started.
Be patient—Applications are individually reviewed by our team. You can expect a response within one business day.
Sign Up—Once approved, you'll receive an email with everything you need to get started. See you in there!